Rostex Global were an Edinburgh company that offered various investment plans. This is my Rostex Global review on how this company achieved this sophisticated sscam.
They seemed professional and credible and had an exceptionally smooth and efficient investment dashboard that was sophisticated and well designed.
They accepted investments in a variety of cryptocurrency including Tether which made investing in them cheap with $1 transaction fees and no withdrawal fees or penalties.
I had been personally invested with Rostex Global for several months and had deposited and withdrawn my profit simply and with no issues.
However my Rostex Global review of the company was not great.
There were a number of lets call them amber flags that were waving on a detailed look at the Rostex Global website.
First of all was the video that they had purporting to be Gregor Douglas CEO of Rostex Global reading very badly from an autocue.
Its impossible to understate just how awful this was. I've posted a link to this charade below.
You would have thought that the CEO of an organization such as Rostex Globalwould have been confident and assured enough to relate details of his company without having to resort to an autocue. Whether this man was indeed CEO Gregor Douglas and not an actor I don't suppose we'll ever know but he did not instil much confidence.
Then the online chat disappeared.
I decided to call the Edinburgh offices on the advertised landline. The call was eventually answered by an Eastern European man so this was confirmation that the offices had no receptionist which was concerning for a company of the alleged size of Rostex Global.
Previously I had messaged Rostex Global using their online chat and it had always been manned even at the weekend and on Bank Holidays but now it had gone without any explanation.
It reappeared a week later but then disappeared again.
And there were discrepancies on the website.
They claimed they had been in existence since 2016 but the website had only been registered in October 2020 and the servers they were using were Namecheap who are the principle domain hosts for scam companies. 
My Rostex Global review continues.
Companies House also confirmed that Rostex Global had not been around since 2016 as the company website had claimed but had in fact only been registered since October 2020.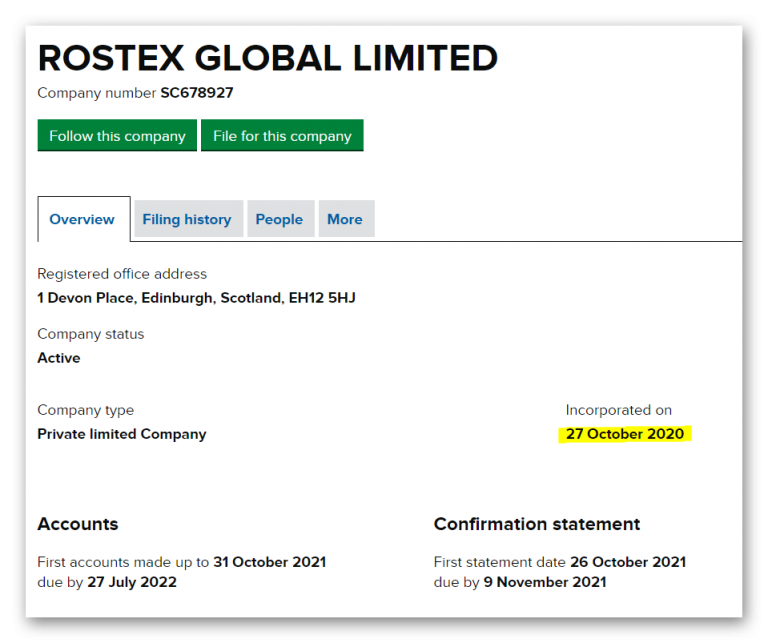 Other than Gregor Douglas CEO, the other named person was Andrew Ross who appears in several company YouTube videos. 
Neither Gregor Douglas and Andrew Ross had any social media exposure. No LinkedIn account, not on Facebook, a web search found no information on them which is unusual for anyone who had allegedly been active in the financial services marketplace for 5 years. 
So my Rostex Global review was displaying a number of warnings but not enough to consider rejecting them at this time.
However , it was around this time that I was contacted by Marcus Hines.
We had a long chat on WhatsApp where he proceeded to cast doubts about Qubit.Life (another investment opportunity) who he claimed he had worked for and he extolled the benefits of Rostex.
He told me he had 5000+ in his downline and it was Hines who had recruited Steve the man who introduced me to Rostex.
The conversation left me in no doubt that a) he was part of Rostex b) he was not genuine.
He was very keen to tell me just how extraordinary Rostex was and that they had company capital of $850 million and that they had insurance deals for large investors.
Anyone who posts images of bundles of dollar notes screams scammer in my book. This is straight out of the Nigerian Scammers Handbook.
 He was also very keen to show me his investments in Rostex. 
Adding this lot up, he wanted to believe he had invested $280,000 worth a staggering $540,000 but he wasn't finished yet.
He messaged me telling me he just invested 5 BITCOIN worth at the time around $200,000 and was recommending I should do the same:
I decided to invest a lot in my investment plan today (Diamond VIP)
A very profitable plan with great profits
It is advisable to consider this plan
He also sent me this:
This was supposed to prove that the $120,000 invested with Rostex was insured against loss but the reality is that its just a piece of paper and if Marcus Hines is working in association with Rostex which he clearly is the this is an agreement between the same person.
14th May 2021 - red flags raised
On the 14th May when I checked the progress of my latest Rostex plan – it had disappeared.
I left a message for them anticipating an emailed reply.
Not long after this I could access my Rostex dashboard and my Professional One plan was now a Diamond Plan and paying 5%.
As previously I had only been receiving 1.8% I was becoming more and more sure that there were serious problems with this company.
They also were now offering 2 extra plans that they called ICO plans. An ICO USD plan and an ICO BITCOIN plan. 
These plans were 10 day duration and paid 5% which if genuine was quite deal after all this would return $150 on a $100 investment in 10 days.
It is clear in hindsight that Rostex were readying to cut and run and these clever ICO 10 days plans were designed to sucker in a bit more cash before Rostex disappeared. 
I decided I had seen enough and my Rostex Global review was telling me to get out of this company ………….but it was too late.
On the weekend of 22nd May and 23rd May, I could not access the Rostex Global website and access my dashboard and it has been down ever since and I have had several emails and messages from victims with the same problem. 
All attempts to contact Marcus Hines have failed and he has not been seen on Whatsapp since 16:28 on 19th May. 
So that concludes my Rostex Global review.
More money lost to scammers.
This will make it 4 times I have been scammed following Bitfx-Trade, North Trust Finance and Exoveinvestment. In mitigation I have never lost much to these scammers and they have provided material for my websites. I have to say that the Rostex scam was exceptionally good. They clearly spent a good deal of money, hiring offices in Edinburgh and fitting them out to look legitimate.
Just look at the number of people they have hired and made to wear company shirts in the video.
They must have had to purchase 20 or 30 Apple Macs to give credibility to the company and spent thousands on fitting the offices out.
Clearly this was a drop in the ocean compared to the amount of money they have scammed with 10's of thousands of "investors" mugged.
So this was an exceptionally well planned and well executed cryptocurrency scam although why they hired this actor to play the part of Gregor Douglas and posted such a God awful video on the company website is a mystery.
Hyper Fund are what I consider to be the Gold Standard of cryptocurrency companies. They are part of the giant Hyper Tech group. This giant of the blockchain space are one of the biggest and most diverse blockchain organizations on the planet. Here's a 2 minute video of who Hyper Tech are and why this is such a genuine opportunity.
Do not confuse Hyper Fund with an investment opportunity. It isn't. Its a membership rewards program. Hyper Fund want 30 million members before Hyper Tech launch  their I.P.O. on the Hang Seng at the end of 2022. Hyper Tech have history. 
They have been in the blockchain workspace since 2015 and I've posted the proof below this short video. 
Hyper Fund are without doubt the greatest membership program available today with an exceptional rewards feature for membership. You can download a link to the due diligence on the group here.
For more information on Hyper Fund or to join the group
WhatsApp me on +447933728063
Have you been scammed by Rostex?
I am collecting the names and emails of everyone who has been scammed by Rostex and I shall pursue them through Scams Recovery. If you would like to provide your details here – I'll see what I can do. Please leave your name and email and phone number (optional) and please give details on how much you have lost.